The artist presents herself:
I am a Dutch graphic designer living and working in Estonia. For over ten years I worked as the resident graphic designer at the music venue Paradiso in Amsterdam, before moving up north. Here I have my own graphic design studio (Solleveld & Toim), together with my wife. We create online and offline effective designs and assist companies in creating assets (based on their own design), during campaigns or festivals.
In my work I am mostly inspired by art movements such as De Stijl, art deco, Futurism, graphic novels, travelposters, designers like A.M. Cassandre, Sybil Andrews, Riccardo Guasco, Fortunato Depero, Martin Kaye, music and whatever happens in my life. I like to use bold colors and try to leave out any clutter, so the message can always be readable from any distance.
Bringing new life to poster art! Ilse Solleveld is a part of Come to Finland's effort to create a renaissance for the almost forgotten genre of poster art. Make reality of your own, or your business', poster idea through Come to Finland with the artist of your choice. Mail us at posters@cometofinland.fi – together we'll let creativity flourish!
Products related to Ilse Solleveld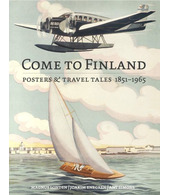 Check out over 200 classic Finnish travel posters and read more about all the great Finnish poster artists in the digital version of our book "Come to Finland" (found in three different editions; in English, French and German). After enjoying the posters a while we believe you are ready to order the real thing: the printed coffee table book.
GOTTA HAVE!
GOTTA READ!