Kai Nordberg is a photgrapher. He started out at the legendary studio Aho & Soldan in the late 1950s. When he in the summer of 1958 headed for the city of Savonlinna in eastern Finland, home to the famous castle of Olavinlinna, he got a good piece of advice from a collegue: Shoot a photo of the castle with a rowing boat in front! Said and done. And true enough: the next season the Finnish Tourism Association bought his picture and used it for marketing Olavinlinna. Nordberg then became a freelance photograher and started his own studio in 1964. He continued working with advertising photography until his retirement in 2001.
Products related to Kai Nordberg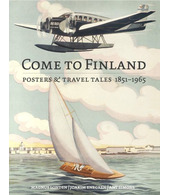 Check out over 200 classic Finnish travel posters and read more about all the great Finnish poster artists in the digital version of our book "Come to Finland" (found in three different editions; in English, French and German). After enjoying the posters a while we believe you are ready to order the real thing: the printed coffee table book.
GOTTA HAVE!
GOTTA READ!