Olavinlinna by Väinö Blomstedt
Originally published
1920's
After our great poster exhibition at the National Museum in Finland closed in 2017 we received an e-mail from the US:
"I have something you might be interested in".
It was a Finn-American writing, and he surely was right. In the 1980s he had bought a Finnish travel poster from a collector in NYC.
It was this one by famous artist Väinö Blomstedt, depicting the fortress Olavinlinna in his home town Savonlinna in south eastern Finland.
And yes, we at Come to Finland, surely love the slogan used on this poster!
Products based on this artwork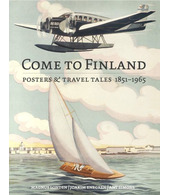 Check out over 200 classic Finnish travel posters and read more about all the great Finnish poster artists in the digital version of our book "Come to Finland" (found in three different editions; in English, French and German). After enjoying the posters a while we believe you are ready to order the real thing: the printed coffee table book.
GOTTA HAVE!
GOTTA READ!