En ny dag
Originally published
1950's
Here at Come to Finland we believe that even the summer of 2020, after all, can be lovely. We would all deserve that, wouldn't we? Therefore, we digged deep into the poster hunter's archives. This classic one from the 1950s certainly made us giggle, and now we hope that it will delight your summer days as well.  No matter what is served in the glass.
We wish you a happy summer!
In this poster, the slogan shouts in Swedish: "A NEW day – a SOBER day" and it was used in the sobriety work in Finland during the 1950s.
Products based on this artwork
En ny dag
1950's
Coasters
En ny dag
1950's
Trays & Cutting boards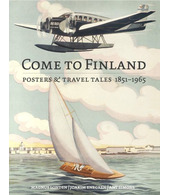 Check out over 200 classic Finnish travel posters and read more about all the great Finnish poster artists in the digital version of our book "Come to Finland" (found in three different editions; in English, French and German). After enjoying the posters a while we believe you are ready to order the real thing: the printed coffee table book.
GOTTA HAVE!
GOTTA READ!