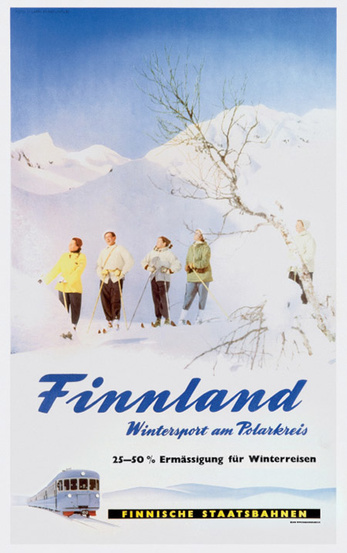 On Pyhätunturi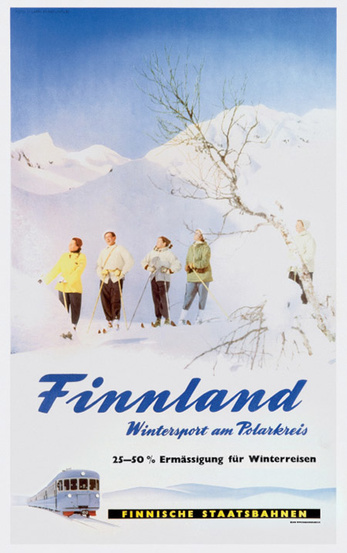 Two tired men are sitting in a room. They stare out into the emptiness, both listing seemingly random numbers in different languages. One of them is holding a gavel.
Have they totally lost their grip? Are they confused?
No. Quite the opposite! They have full control – and they are sitting on a treasure. A poster treasure.
You see, this week your Poster Hunter was out hunting as usual and this time he was searching for classic Nordic travel posters at an European online auction. And after about seven hours the two men in the empty room showed something that made the Poster Hunter weak in his knees. A Finnish original poster from 1954!
Well look at that! It's the tourists on Pyhätunturi!
In this poster, commissioned by the State Railways, Easter holidays are obviously celebrated. The sun is glistening in the snow, a mountain birch has pushed its way through the drifts of snow. The tourist have, as we may assume, traveled on a climate-conscious night train from the big city. Now they enjoy the desolation and silence and everything is just as it should be in wonderful Finnish Lapland.
However, what you can't see in the poster is that Pyhätunturi is ancient Sámi land and that the mountain is worshiped by the Sámi. But it is not alwyas in the nature of tourism advertisements to be aware of such things.
But perhaps the fashionable skiers, both then and today, are raising a glass of warm juice – for the visionaries of the old. You see, already in 1910, the first proposal to found a national park at Pyhätunturi was put in motion. In 1938 it became a reality.
That decision has ensured that we still today can dress up in colorful anoraks and celebrate Easter in glittering snow at Pyhätunturi.
But wait a minute! This year, we don't know if there will be an Easter rush to Pyhä. Luckily there is a good substitute: the poster!
Because when those two old men listed the Pyhätunturi poster at the auction, your Poster Hunter was there and he won. And that means the poster is finally coming home again, home to Finland.
And it also means that you can decorate your walls with a tribute to the Easter holiday, as it was meant to be.
Your Poster Hunter therefore wishes you a happy and sunny Easter! And the hunt, it continues.
/// Use the code EASTER for -25% on the Pyhätunturi-poster in our web shop ///