Finland-Finnair
Originally published
1961
Redan år 1915 talade ordförande för Turistföreningen om att det är dags att plocka fram den gamla goda kanoten och bege sig ut på upptäcktsfärd i Finland. Men först i slutet av 1920-talet vände man sig till utländska turister med broschyrer och affischer om de oändliga möjligheterna som Finland ju faktiskt kunde (och kan) erbjuda. Blickarna riktades främst mot England och Tyskland, där man anade ett stort intresse. Och vilka var Finlands trumfkort? Tystnaden, de stora vidderna, sjöarna, orördheten … Nu skulle man sprida information om natursköna rutter med information om lämpliga vägar, stigar, vattenleder, lägerplatser och tillåtna ställen att göra upp eld på. – En dag hoppas vi få se dessa campingrutter som ett nät omspänna hela vårt land, så att den, som har lust, efter behag skall kunna genomströva landet från söder till norr och från väst till öst, sade Wolter Stenbäck, direktör för Turistföreningen i en intervju 1935. I en broschyr från slutet av 1930-talet slår man på samma trumma: "De otaliga möjligheterna att idka denna sport äro ännu icke på långt när utforskade. Utrustad med tält och matsäck samt en parlör för det finska språket kan även en utländsk kanotist reda sig här och få sitt lystmäte ifråga om farbara vattendrag. Han kan, om tid och krafter förslå, färdas med sin farkost genom hela Finland." Artisten denna bilds harmoniska naturmotiv är tyskbördige Arnold Neumann, som bland annat var chef för FÅA:s reklamavdelning, och en av de stora arkitekterna bakom den utländska turistboomen till Finland under 1930-talet. Flytande i åtminstone svenska, tyska och ryska hade han ett ojämförbart kontaktnät ute i länder som var viktiga för Turistfinland. Paddling var hans stora passion, och tack vare hans broschyrer och handböcker, som han själv illustrerade och skrev, "började våra vattendrag befolkas av utländska kanotister", som det hette i hyllningsorden på hans femtioårsdag år 1945.
Products based on this artwork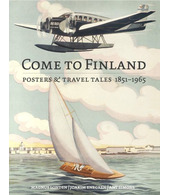 Check out over 200 classic Finnish travel posters and read more about all the great Finnish poster artists in the digital version of our book "Come to Finland" (found in three different editions; in English, French and German). After enjoying the posters a while we believe you are ready to order the real thing: the printed coffee table book.
GOTTA HAVE!
GOTTA READ!