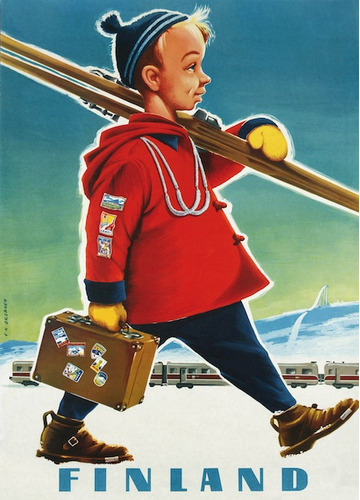 The Ski-Boy
Originally published
1957
The poster was commissioned by the Finnish State Railways. Artist Osmo K. Oksanen asked his daughter to pose in front of the family house drive way. There she was given Ms Oksanen's make-up bag to hold and suddenly a little boy with a suitcase was created. Note the labels on the suitcase: Inari, Kuopio, Ivalo and Pallastunturi – classic tourist destinations.
Mr Oksanen is naturally one of our favourites. Why? Well, Oksanen's sense of humor is in its own league. And hey, there is also a summer version of this poster. There the boy wears shorts and an umbrella has replaced the skis.
Products based on this artwork
Check out over 200 classic Finnish travel posters and read more about all the great Finnish poster artists in the digital version of our book "Come to Finland" (found in three different editions; in English, French and German). After enjoying the posters a while we believe you are ready to order the real thing: the printed coffee table book.
GOTTA HAVE!
GOTTA READ!