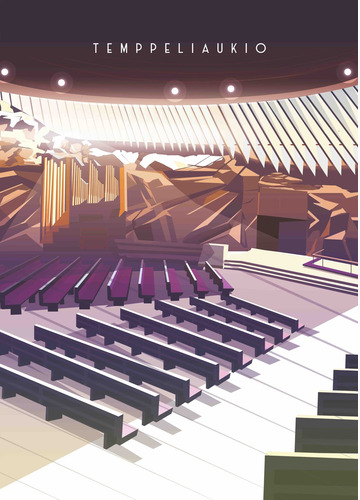 Temppeliaukio Church by Omar Escalante
Originally published
2020
The year is 1931 and an architectural competition is announced: Finally, that church on the Temple square (Temppeliaukio in Finnish) in central Helsinki will be built! But the jury is not happy with the proposals: no winner is chosen.
Five years later, a new competition is arranged – but still no winner chosen. But the proposal that comes in third place still feels okay for the decision makers, and in 1939 the work begins. But then, unfortunately, the winter war begins and the work ends after only three days.
Twenty years later, a third competition is arranged with the requirement that as much of the rock's structure as possible be kept intact. The architect brothers Timo and Tuomo Suomalainen win and solve the problem of protecting the mountain by building the church into the bedrock, like a cave. In 1969 the church could be opened.
Forty years later, Temppeliaukio church (also known as the Rock Church) contacted Come to Finland with a cool idea: We want to create a poster for the church. The artist Omar Escalante was selected for the important project and soon the church had received its post. Not a second too early. After all, the church is one of the most popular sights in Helsinki and Finland.
Products based on this artwork
Check out over 200 classic Finnish travel posters and read more about all the great Finnish poster artists in the digital version of our book "Come to Finland" (found in three different editions; in English, French and German). After enjoying the posters a while we believe you are ready to order the real thing: the printed coffee table book.
GOTTA HAVE!
GOTTA READ!