How an autumn poster seduced the Poster Hunter
Click to buy your favorite Lapland poster!
Last month, the Poster Hunter stared at his poster collection. He was looking for the crackling colours of autumn. Although, in the 1950s, Finland liked to market itself either as the promised land of skiing (Finland for wintersports!) or as a summer country of happiness (Finland for holidays!), he found an autumn gem amongst the posters:
Visit Finnish Lapland and its capital Rovaniemi!
Oh, what a sweet image: Reindeers and autumn colours and wilderness! But there is no way it could look like this in real life. Or is there?
Despite his skepticism, the Poster Hunter is a well-behaved and curious Finnish citizen, so he decided to find out if the poster was speaking the truth. He took the night train from Helsinki up far north. He ate breakfast in Rovaniemi but then quickly left the city behind, went on a bus for several hours, then rented a shuttle, waded across a rapid, and soon found himself in the heart of the Urho Kekkonen National Park, namned after a former president.
There is no way it could look like this in real life
He almost fainted of happiness.
Definitely!
For everything was just like on the poster: the sun was shining, the foliage timing was perfect, and the lingonberries were just waiting to be picked. During the hike, the Poster Hunter drank water from the rapids, toasted with his companions, squeezed into the tent and in a kind of autumn climax, the Hunter & co actually took a dip in an icy rapid. And fell asleep afterwards in the sun.
Everything was just like on the poster…
The days went by. The feet were sore, but the happiness was constant. The Hunter discovered Paratiiskuru: a small pond in, as the name says, paradise. And when the company then ascended to the nearest peak, Ukselmapää, they stood with their faces in different directions, declared silence, and just stood there.
In silence. In the deafening silence.
And they felt so wonderfully small, insignificant. But free.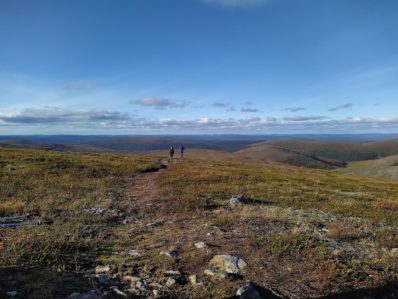 Visit Finnish Lapland?
Always and forever.
You can be sure that the Hunter also enjoyed the colours. He enjoyed how the blueberry sprigs turned Lapland into a sea of ​​purple. How the leaves of the mountain birches was repainted in all shades of color. Yes, who really needs a billion colours and 500 nits of light on their brand new computer screen? Everything already exists in nature.
Once back home, the hunter took another look at his beloved poster collection, this time on contemporary works of art. No modern artist can have captured the autumn foliage, he thought.
Until he saw a poster of Emma Chudoba.
And as in autumn-trans, the hunter immediately wrote a strict notification in his calendar for September 2022:
Visit Finnish Lapland – and experience the magic.
Magnus Londen, Poster Hunter
Photos: Ant Simons / Christopher Palmberg